12 Jun Weekly Email for the Week Ended June 11th, 2021
Welcome to the AmericaCanWeTalk Weekly Email for the week ending on Friday, June 11th, 2021!   Click on any of the underlined words below to go directly to the show clips described.
     You are receiving this because you subscribed to the weekly email from my talk show website, 
AmericaCanWeTalk.org
.
     To unsubscribe, email me at 
[email protected]
,
 and put "Unsubscribe" in the subject line.
Personally …
     I love talking with you every day on my show about America!
     Got that? Flags are scary. Patriotism is racism. Demanding truth about and an actual investigation into election fraud is unacceptable.
     She was pushing for another investigation into the January 6th violence at the Capitol, never mind that the DOJ & FBI have been and still are thoroughly investigating/interrogating every person who was at the Capitol that day, throwing far more time and determination into that investigation than they or any other law enforcement agency invested in investigating the far more deadly and destructive nearly year-long riots by Antifa and BLM which were funded by actual enemies of America. Bizarre how Gay demands investigation into the already-investigated January 6th incident, but labels those who want investigation into election fraud racist.
     Gay's views are both sad and dangerous. Gay has hook, line, and sinker swallowed the race baiting leftist lie that support for the America First Trump agenda, or suspicions about election fraud based on many facts and data points available for any American to read about, are views that could only be held by racists. She is completely oblivious to the reality that voters support the Trump agenda because it was restoring love for a strong and sovereign nation, freedom not socialism, secure borders not open borders, trade deals that honored America's workers and rights, and much more, and that all of the America First agenda benefited all Americans equally, regardless of skin color.
     Mara Gay could have disagreed with any America First agenda item and that could have been the basis for a legitimate and intelligent American political conversation. But she chose the "anyone who disagrees with my leftist views must be a racist" tactic, because then no conversation of meaning will ever occur.
     This is the time of year where we have patriotic holidays packed in together.  I just love them.  Flag Day (June 14th) is just a few days away,  and Independence Day (July 4th) is coming up,  and Constitution Day will be on September 17th. Of course we Americans also honor our military, current and former, on Armed Forces Day (May 15th), Memorial Day (May 31st) and Veterans Day (November 11th).
     These holidays when I was growing up were occasions to sleep in,  go on a family camping trip, or just take a break from the regular rhythm of life. But today, as America faces a true identity crisis,  a question of whether we can hold onto the constitutional republic and the freedoms that flow from that style of government, I am more dedicated than ever to talking truth on my show and in life about what the real ideas of America are, and that those ideas universally bless everyone of every race, ethnicity, national origin, and skin color.
     I look forward to talking truth about America with you this coming week, and every week, Monday – Thursday at 3pmCT.
DebbieG
AmericaCanWeTalk is hosting an important conference in Dallas on THIS coming Thursday,  June 17th —about
Critical Race Theory (CRT).
You can RSVP on our website, and pay via Venmo, CC or check.
Below are links to this week's shows.
Links to Full Shows from this past week:
(D-Day, Today's Evils to Fight, Yale Psychiatrist hates white Americans and says so, Defending America)
(DeSantis Combats CCP, Reggie Littlejohn, Barack Defends CRT & Attacks Whites in America)
(IRS "Leak," John Rossomando, Kamala DID go the Border, Racial Politics Killing America)
Our Thursday Show for Members on 6.10.2021 featured Gordon Chang, one of the foremost experts in America on the topic of China's expansionist mission, abuse of its trading partners, theft of intellectual property, treatment of its citizens, and more.
Links to Top News & My Commentary from this past week:
Interviews This Week: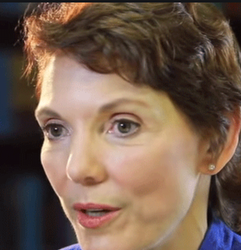 Reggie Littlejohn
,  Heroic fighter in America for China's women, babies, elderly, and minorities, who suffer under the brutal Chinese Communist Party regime.  Her current mission is to push for MOVING the February 2022 Olympics out of China, OR to urge America and others to boycott those Olympic Games.
John Rossomando
 of the Center for Security Policy joins me to talk Biden's Military Budget, or more like budget that fails to fund the U.S. military. Hear what does and does not get funded in Biden's dream budget.
Blog Posts this week:
News about Our Special Thursday Shows for Members:
     This past week on the AmericaCanWeTalk Thursday June 10th we were joined by Gordon Chang, renowned expert on China, who shared his wisdom about the latest on China's international aggression, as well as covid, trade, energy, and China's aggression on American soil.
     This coming week, our four stellar speakers at our upcoming Talking Truth About Critical Race Theory panel will join me in studio.  Kendall Qualls, Cicely Davis-Ireland, Rebecca Friedrichs, and Cameron Bryan will share their wisdom and answer your questions.
    You can become an AmericaCanWeTalk member!
     JOIN ACWT today and do not miss another Members Only Thursday show!  You can become an ACWT Member by going to 
THIS LINK
 on our AmericaCanWeTalk website, and choosing "Join Now."
Membership is only $5/month OR $50/year, and entitles you to:
Watch our Thursday members only shows live on the website (it is like a private American political conversation every Thursday)
Submit questions for Debbie and her guest when we have one
Join us in our in-studio audience if you are in the Dallas area.
Access all past Thursday interviews in the Members section of the website, which at this point includes interviews with U.S. Rep. Marjorie Taylor Greene, Rafael Cruz,  Lt. Col Allen West, Todd Bensman, Ashley Smith Thomas,  Nick Vujicic (author of Life without Limits),   AZ GOP Chair Dr. Kelli Ward, Frank Gaffney, and now Senator Jim DeMint
Members – you can join our Thursday in-studio audience! AmericaCanWeTalk mem
bers who live in OR will be visiting the Dallas area and would like to be part of the in-studio audience on any Thursday at 3pmCT, PLEASE email me directly at 
[email protected]
, and put "Join Studio Audience on (fill in the date)" in the subject line.
Join our private ACWT texting group – stay connected despite big tech censorship!
Send a text to 53445 (type that number in the "To" line of your text), AND THEN in the message portion of your text, type the word America. Then hit send. That's it!
You'll receive a quick confirming text from me. I will never send frivolous texts, but will communicate especially important news like ways to find the show on new social media platforms, and very special guests upcoming.
We will never charge you, and you can cancel at any time.
AmericaCanWeTalk (ACWT) – When & Where & How
ACWT airs LIVE every Monday through Thursday @ 3pmCT.
You can watch AmericaCanWeTalk many ways, but we suggest you watch it on our website, at https://americacanwetalk.org
To watch AmericaCanWeTalk live at 3pmCT go to https://americacanwetalk.org/live and you are set! (Keep refreshing until we start.)
Monday through Wednesday shows are free for everyone, on all platforms.
Thursday shows are special, private shows for members, with an  in-studio audience, and are aired exclusively on the AmericaCanWeTalk website. The "You can become an AmericaCanWeTalk member!" section tells you how to join.
ACWT is now running on all Right Side Broadcasting social media!
  You can also watch AmericaCanWeTalk live
      On YouTube by going here OR
On all social media, please follow, subscribe, join, share and comment!
PAST Shows & Interviews:
All of my past shows and interviews are available at my  
AmericaCanWeTalk
  website. That website also contains our latest blog posts, a listing of our popular Why It Matters show feature, a copy of our weekly newsletter, and more.
ACWT's  shows are also available almost immediately after the show on these social media platforms:
Final tips for this week:
Share this email! Help AmericaCanWeTalk grow!
If someone forwarded this email to you, go to my website here to sign up for yourself! Click on the "Subscribe" button on the home page.
Here is your invitation to our June 17th CRT special conference.
Go to our website 
here
 to register for this conference!
On AmericaCanWeTalk, I talk truth about America, and about why the stories and news of the day, matter to you.
Thank you so much, my very fine friends, for listening and subscribing to AmericaCanWeTalk!
Because America Matters, 
Debbie Georgatos
Host: America, Can We Talk?