08 Apr Weekly email for the week ending April 7, 2023
Welcome to the AmericaCanWeTalk Weekly Email for the week ending on Friday, April 7th, 2023!
Click on any of the words in dark red font below to go directly to the show clips described.
Want to join me in a new venture?
     How often do you realize something that you have bought was "made in China," and then you must decide how to proceed. If you listen to my show often, you know that the CCP has targeted America, that they intend to eventually destroy America, and that China's overtaking of American manufacturing and jobs was a plan.
    I have joined in a new venture that will allow Americans to support American businesses,  American workers and their families, and American-made products.
    I would LOVE to have you join me in this most honorable venture.
    All that's required is a friendly voice, a phone and computer, a good work ethic, and a desire to support America. You can earn money from home by working about 10 hours a week.
     To learn how, register for a Zoom call with me, by going to 
JoinMyProject.org
.  Our call will be on Wednesday April 12th at 7pm central time. I will be on the call along with our team manager.
     Join us on the call, and then decide if you want to join the team.
This is one way you can help to rebuild America's strength.
Personally … (my weekly column for you!)
Hello My Very Fine Friends,   
As I prepare my weekly column every weekend, I look for a news story or theme to focus on, that relates to the purpose of AmericaCanWeTalk, which is to speak up for preserving America's unique greatness.
Because this is Easter weekend, I've decided to avoid delving into the details of the many overwhelmingly important stories and events now occurring in America, and just focus on two simple points.
One is that there is no longer any excuse for anyone to fail to see what is happening in America, to America. Today, we Americans face a choice between surrendering to the Destroy America Mob (the DAMs), or supporting the Save America Movement (the SAMs). It is that stark and that simple and that profound. That dichotomy is evident in the battles over protecting children from trans-groomers, enforcing the border to retain our sovereignty and safety, protecting freedom of religion and speech, preserving financial freedom,  free markets and property rights, cherishing life, stopping globalism and socialism, upholding American sovereignty, and literally hundreds of other issues.
President Reagan described a Time for Choosing in his 
famous speech
 from October 1964. He was asking what we want America to be, and if we care enough to fight to preserve it. That sentiment is more true today than ever in American history.
The second point surrounds Easter and Passover and the place of God in America's founding. The reality and presence and power of a loving Creator was at the core of the founding of America.
Easter, the most important and sacred holiday in the Christian calendar, celebrates Jesus' resurrection and salvation for mankind.  Our Jewish friends celebrate Passover,  remembering and expressing gratitude for God's protection of His chosen people fleeing from Pharaoh.  Both holidays recognize and honor God's love for us, His redemption, mercy, protecting power and greatness.
America's Founders openly acknowledged the "Creator" who endowed us with unalienable rights. The very identity and structure of America was rooted in honoring that truth of our unalienable rights, and in striving to create a governmental structure that would preserve them.
So at the very same time America faces unprecedented and existential threats to our future of freedom and safety at the hands of the Marxist mob of the Left (the DAMs), we are in the midst of one of the holiest and most profound and precious times of year when we pause to remember and honor God and His Divine Government over all.
My second point is that America's founding, rooted in honoring of our God-given freedoms, is a source of strength and hope. God is more powerful than the evil now threatening America.
I wish you all a blessed and meaningful Easter celebration, and Passover.
Speak Truth About America.
Facts Matter.  Truth Matters.  America Matters. 
I'll talk to you next week. I can't wait!
Because America Matters, 
DebbieG
LINKS TO THIS WEEK'S SHOWS:
Shows This Week:
Recent Interviews:
Kevin Freeman
 is an internationally recognized 
expert on Economic Warfare and Economic 
Terrorism, author of According to Plan and other great books, and is the host of 
Economic War Room
, a truly insightful show that offers an economics education for everyone.
TUNE in to this show to understand  the brilliance of and need for Texas Transactional Currency based on gold and silver, how dangerous the CBDC idea is, and what it will mean to move away from the dollar as the world's reserve currency. These are ALL freedom issues.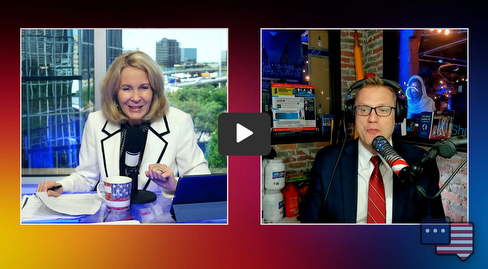 Clay Clark
 is the host of Thrive Time show, and the founder and organizer of the ReAwaken America Tours featuring some of America's most profound thought leaders. He is a leader among entrepreneurs, and an activist for health care freedom among other areas of expertise, and is one of the most high energy and relentless patriots you will ever hear.
BLOG POSTS FROM THIS WEEK:
On AmericaCanWeTalk, I talk truth about America, and about why the stories and news of the day, matter to you.
Thank you so much, my very fine friends, for listening and subscribing to AmericaCanWeTalk!
Because America Matters,
Debbie Georgatos
Host: America, Can We Talk?