06 Mar Weekly Email for the week ending Friday, March 4th, 2022
Welcome to the AmericaCanWeTalk Weekly Email for the week ending on Friday, March 4th, 2022!
     Click on any of the words in dark red font below to go directly to the show clips described.
Mark your calendars now for Saturday October 15th!
That's the date of our Third Annual AmericaCanWeTalk Women f0r Freedom Summit in Dallas, with a special VIP reception on Friday evening October 14th.
Details to follow!!
Personally … (my weekly note to you):
My Very Fine Friends,
The single most important commitment every patriotic American must make now is to defend America as a sovereign, freedom-based nation state. That means at the very least defending America's constitution, guarantee of individual liberty and God-given rights, and rule of law.
The reality is that radical Leftists who currently hold power in Washington are engaged in a mighty effort to sweep away our constitutionally-protected freedoms, eviscerate the constitutional limits on the power of the federal government, usurp control over our elections and corrupt them, and expand their power over more and more of our lives.
Every issue we face must be considered and resolved with this reality and that commitment in mind.
Three weeks ago the Department of Homeland Security issued a Bulletin announcing that they are expanding their definition of  actions that can be considered domestic terrorism to include saying things the government disagrees with. (Sounds like something out of George Orwell's 1984, but it is exactly what the government did, in 2022, in America!) Specifically, DHS warned that SPEAKING the idea that one questions the government's covid vaccine policies OR that one questions the legitimacy of the 2020 elections, can constitute domestic terrorism.
This past week the U.S. Surgeon General Dr. Vivek Murthy announced that he is formally requesting social media companies to submit to him names of covid skeptics and influencers who spread "mis-information"  about "unproven" Covid-19 treatments. Recalling that Dr. Fauci told America that hydroxychloroquine and Ivermectin and budesonide should not be used to treat covid, despite that all are now proven in scientific studies to be effective treating covid, I am wondering if those social media companies should report Dr. Fauci's covid misinformation. Seems logical.
Dr. Murthy's surveillance round-up along with the above-described DHS Bulletin signals that the Leftist Regime in power in DC intends to identify, threaten and thereby attempt to silence Americans who dare to disagree with them on some of the most important issues facing the  country — issues that will shape the future of freedom and the direction of our country.
There has never been a more important time to "speak truth to power," and to stand up and speak up for America. That is what I do every day on AmericaCanWeTalk. Thank you for listening.
Speak Truth About America.
Facts Matter.  Truth Matters.  America Matters.
I'll talk to you next week. I can't wait!
DebbieG
Links to this week's shows:
Whole Shows:
Interviews from this week:
Katie Hopkins Wildly popular U.K-based journalist, columnist, and political analyst whose wit, humor, and insights about the downfall of western civilization at the hands of socialists and Islamists are extraordinary. She implores Americans to understand that the whole world is waiting for America to rise up, stand strong, and resist the forces at work today trying to destroy the freedom and greatness of America.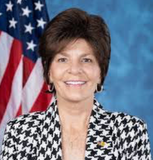 Congresswoman Yvette Herrell represents New Mexico's second congressional district in Congress. Her district includes areas of New Mexico that border with our southern neighbor, Mexico, and she is determined to pursue policies that protect her constituents and the interests of the United States. She also introduced legislation supportive of the Canadian truckers!
Frank Gaffney founded the Washington DC-based Center for Security Policy and has for decades provided exceptional and well-informed analysis of the national security threats facing America. He's a frequent guest on AmericaCanWeTalk and this time we talked through the situation in Russia and The Ukraine. More information coming out every day and it is a must-understand situation.
Blog posts from this week: