29 Jan Weekly Email for the week ending on Friday, January 27th, 2023
Welcome to the AmericaCanWeTalk Weekly Email for the week ending on Friday, January 27th, 2023!   
Click on any of the words in dark red font below to go directly to the show clips described.
What I think of you. …
I think of you, our show listeners and weekly newsletter subscribers, as a family of patriots working together to save this precious country.  So, when I talk with you each day on my show, I feel like I am talking with family. I hope that you feel that way too.
Personally … (my weekly column for you!)
Hello My Very Fine Friends,  
Two truly shocking videos captured the news cycle over the last few days. How America responds to both, one involving the Memphis police, and one involving Pfizer, matters greatly. Both went viral. The media trumpets and repeats the one, and diminishes and suppresses the other.
One involved five black Memphis police officers
 (Tadarrius Bean, Demetrius Haley, Emmitt Martin III, Desmond Mills Jr. and Justin Smith) who brutally and fatally beat a black young man named Tyre Nichols, after pulling him over for alleged reckless driving.  All five officers involved  were fired, and charged with second-degree murder, aggravated assault, aggravated kidnapping, official misconduct, and official oppression.
This video involving Tyre Nichols is brutal to watch. It reveals horrific police brutality. Many rightly called for justice after Tyre's beating death, even as the criminal justice system was already in the process of arresting and charging the former officers. LOTS more to be said another day about the race-baiters trying to snag a political advantage by falsely claiming that this horrible police brutality incident is proof of systemic racism in policing.
This Memphis video continues to spread virally.
Walker was Pfizer's Director of Research and Development, Strategic Operations – mRNA Scientific Planner.
In the undercover video this high level Pfizer Director acknowledges
…….
(Friends, Please finish this column at our AmericaCanWeTalk website HERE)
Speak Truth About America.
Facts Matter.  Truth Matters.  America Matters.
I'll talk to you next week. I can't wait!
DebbieG
LINKS TO THIS WEEK'S SHOWS: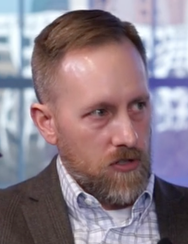 Wade Miller
is the Fellow and Executive Director of the Washington DC- based Citizens for Renewing America, and a fount of knowledge on how Washington
 works. LOVED this interview that focused on the great benefits that flowed to America and conservatives from the concessions made by Kevin McCarthy in his quest to become Speaker of the House. This is truly a hugely informative interview 
on Congress, the Texas border issue and so much more.
Mike Lindell
 was at the time of this interview a candidate for RNC Chair, and he is of course the Founder of MyPillow. Our conversation focused on why he chose to run for RNC Chair as an outsider and what needs to happen to the RNC can begin winning again. He brought some great insights to this 
interview and his campaign.
BLOG POSTS FROM THIS WEEK: 
On AmericaCanWeTalk, I talk truth about America, and about why the stories and news of the day, matter to you.
Thank you so much, my very fine friends, for listening and subscribing to AmericaCanWeTalk!
Because America Matters, 
Debbie Georgatos
Host: America, Can We Talk?