23 Apr Weekly Email for the week ending on Friday, April 21st, 2023
Welcome to the AmericaCanWeTalk Weekly Email for the week ending on Friday, April 21st, 2023!   
   Click on any of the words in dark red font below to go directly to the show clips described.
Personally … (my weekly column for you!)
Hello My Very Fine Friends,  
This coming week our AmericaCanWeTalk show schedule will be very different than usual.  I have been invited to attend two different exclusive and high-level meetings of conservative leaders and will only be able to do the show live on Tuesday.
We will have our usual Thursday-style show on TUESDAY, with our studio audience and an in-depth interview with Christie Hutcherson who founded Women Fighting for Freedom, and whose work exposing some astounding developments at the border and south of the border will be very very interesting.
The other three show days will contain replays of some of our most riveting recent interviews.
My short message to you for this week involves the famous episode in September of 1938 when Neville Chamberlain triumphantly returned to England after meeting with Adolph Hitler and announced "Peace for our time," while waving a  signed-by-Hitler promise not to attack the UK. Chamberlain's misplaced trust, his failure to grasp the evil staring the civilized world in the face, endied up costing the world tremendous misery and suffering and 85 million lives. And the UK fell, never to return, from its place as a dominant world power.
Fewer may remember that then Member of Parliament Winston Churchill visited the German Embassy in the UK in 1930 and after a meeting there concluded that Hitler was a terrifying threat, and that he continued those warnings as Chamberlain dithered and was duped by false promises that Hitler will never hurt us.
America sits today in a position analogous to that of the UK in 1938 or even later. I'll explain more about this next time I have a live show, on Monday May 1st.
Speak Truth About America.
Facts Matter.  Truth Matters.  America Matters. 
I'll talk to you next week. I can't wait!
Because America Matters, 
DebbieG
LINKS TO THIS WEEK'S SHOWS:
Shows This Week:
Recent Interviews: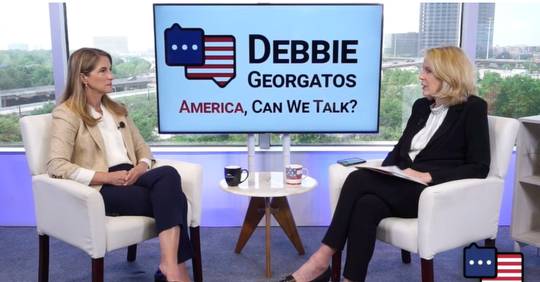 Dr. Mary Talley Bowden
 is a Houston doctor with a flawless record of care for her patients PLUS a record of treating over 5,500 covid patients with NO deaths resulting, yet she is facing discipline from the Texas State Medical Board over her successful treatment of covid patients. You need to hear her story to believe it. It's a story of the medical establishment fighting against successful doctors and treatments.
Shannon Ayres
 is a Texas mom who read aloud at a school board meeting the VERY sexual graphic content of a book found in the school library.  The video of her testimony went viral because a school 
board member shut her down by admonishing her to remember that there were children present at the school board meeting, to which Shannon replied "that's my point!".  Fighting the sexualization of children should not be so hard in America.
BLOG POSTS FROM THIS WEEK: 
Final tips for this week:
Forward this email! Help AmericaCanWeTalk grow!
If someone forwarded this email to you, go to my website here to sign up for yourself! Click on the "Subscribe" button on the home page.
On AmericaCanWeTalk, I talk truth about America, and about why the stories and news of the day, matter to you.
Thank you so much, my very fine friends, for listening and subscribing to AmericaCanWeTalk!
Because America Matters, 
Debbie Georgatos
Host: America, Can We Talk?