14 May Weekly Email for the week ending on Friday, May 12th, 2023
Welcome to the AmericaCanWeTalk Weekly Email for the week ending on Friday, May 12th, 2023!     
   Click on any of the words in dark red font below to go directly to the show clips described.
Personally … (my weekly column for you!)
Hello My Very Fine Friends, 
I was honored to speak yesterday at one of Clay Clark's ReAwaken America tour events. This one was in Miami, and as I write this I am at our hotel, thinking about all that I heard and learned from the other speakers, as well as from the thousands of patriots who were here.
First, it was heartening to see so many Americans fully tuned in, fully engaged, in the fight to save America. The camaraderie and friendly smiles and conversations had a family feel to it. No one I talked to was duped by the lies of the propaganda media, so they all know J6 was not an insurrection, that the leftist cabal running this country is trying to destroy our freedom, faith, and families, that the Biden Administration is intentionally abandoning America's southern border with an evil purpose, that our elections were and are rigged, that the covid vaccines are simultaneously ineffective and dangerous, and that Marxism is on the rise in America and that it is a death knell to freedom. EVERYONE should know these points.
We also were treated with the opportunity to watch the world premiere of the Plandemic III film, which was very well done. As I  watched I was creating a list in my head of people I know who are good and noble and intelligent but utterly clueless about what is happening to our country, what danger lies ahead, and wishing they could watch the film too. Am devising a plan for that …
Events like this are inspiring but they always leave people with a hunger for action steps. Many speakers suggested action steps that of course include calling and emailing your state senators and state representatives as well as their counterparts in the U.S. House and Senate. Signing petitions that support or oppose agenda items is always suggested and always impactful. Getting involved with candidates you like and helping them is a vital step.
But I maintain that one of the most impactful steps people can take is to be very well informed, and then to share what you know. Find ways to share the truth about America, and the truth about the issues that threaten our future well-being and security.  I wrote my book over ten years ago and have hosted this talk show for almost nine years, as one contribution I can make to saving America. There is no more noble cause than speaking up for and spreading the truth about America. All issues matter, but our borders and our elections are top issues for me, and both need passionate patriots spreading truth about them.
Speak Truth About America.
Facts Matter.  Truth Matters.  America Matters. 
I'll talk to you next week. I can't wait!
Because America Matters, 
DebbieG
LINKS TO THIS WEEK'S SHOWS:
Shows This Week:
Recent Interviews: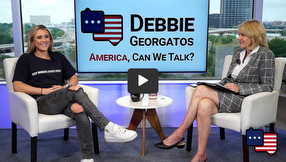 Riley Gaines
 is on a mission to #SaveWomensSports! She is striving to protect women's sports by urging Congress, the Biden Administration. the NCAA,  and everyone else that only women should compete against women in women's sports.
Riley was a top championship level competitive swimmer who competed in and won hundreds of events in her life and for University of Kentucky, but whose final NCAA championship competition in her senior year of college resulted in her tying for first place with an anatomical male who "identifies" as a female. (And the NCAA gave the trophy to the male!!)
This fully intact male swimmer Will/Lia Thomas who claims to be a transgender female, is breaking records competing with females, but was an unremarkable competitor against other males.
Riley's maturity, clarity of conviction and determination are deeply inspiring…you'll love this interview.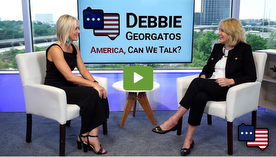 Sherronna Bishop
 did not set out to be a political activist or a wonderful talk show host.  Her journey to political activism is a great American story. Sherronna launched her activism in the public school arena in Colorado by speaking out against the dumbing down of students and curriculum, moved into organizing school board races, then speaking up about obvious election fraud, and in each case and each issue, she persisted with intelligence and thoughtful determination. After the FBI broke down her door because she spoke up about election fraud, and they actually told her the reason was that "she is a connector," she doubled down on her resolve to speak up. She now hosts the America's Mom show on Frank Speech and continues her activism here in the great state of Texas.
Peter McIlvenna
 is one of my friends across the pond. He is the Chief of Staff for Lord Pearson of Rannoch, a member of the UK House of Lords. Peter is also a talk show host who founded his own platform in 2020 to advance the cause of free speech. He interviews leaders and activists around the world. In our interview he describes what has happened to the UK, the loss of freedom of speech through societal 
pressure and censuring, the rise of the anti-freedom leftists and globalists, and the perhaps more important, the increase in the number of people in the UK who either truly despise their own country or who believe that other countries are so  much better. Sounds SO much like what has happened in America. Very eye-opening …
BLOG POSTS FROM THIS WEEK: 
On AmericaCanWeTalk, I talk truth about America, and about why the stories and news of the day, matter to you.
Thank you so much, my very fine friends, for listening and subscribing to AmericaCanWeTalk!
Because America Matters, 
Debbie Georgatos
Host: America, Can We Talk?